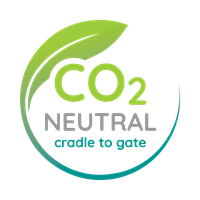 We believe that making an impression with your interior design doesn't have to leave a mark on our planet. That is why, from development to finished product, we do our utmost to make our carpets as environmentally friendly as possible. We know that true sustainability requires continuous improvement, consisting of an efficient combination of immediate, concrete actions and an innovative vision for the future. Sedna® fully illustrates this ambition and by compensation is already carbon neutral from cradle-to-gate. In other words, from raw materials to finished carpet.
We use smart techniques to reduce emissions
Greenhouse gases (GHG), such as CO2, are emitted during the carpet production process. Today, that is still unavoidable. But we can reduce these emissions by continuously improving the process. In recent years, Associated Weavers has invested heavily in technologies that make this possible:
we installed photovoltaic panels on the roof of the factory to produce green energy ourselves
we keep optimising the machinery so that less and less energy is used
we ensure that water is not lost, but is purified and reused
we closely monitor production waste to reduce it.
You can read more about the results of these actions here.
Of course, we remain ambitious and will continue on the sustainable path we have chosen. We invest in technological innovations and actively participate in innovative research projects to further reduce the CO2 emissions of our production and the carbon footprint of our products. In addition to optimising the current production processes, we focus on research into alternative processes. We also strive to use more and more recycled materials and are exploring recycling techniques for the end-of-life treatment of our products. Our ultimate goal? 100% sustainable carpet collections.
We invest in carbon offsetting to compensate residual emissions
At AW, we have already come a long way through process optimization and the use of recycled materials. But we believe it is crucial to also take responsibility for the CO2 emissions that are still unavoidable today. We compensate those by investing in verified carbon offsetting initiatives. In doing so, our Sedna® collection is the first to become carbon neutral from raw materials to finished product, also known as 'cradle-to-gate'.
How does carbon offsetting work? For each Sedna® product, the cradle-to-gate carbon footprint is calculated according to the GHG Protocol. The result is validated by IBU, an independent German institute, and documented in the EPD (Environmental Product Declaration), which is available via the GUT-PRODIS Product Passport. An external auditor calculates the volume of Sedna® carpet sold every year. The CO2 equivalent emissions multiplied by these volumes results in the total emissions for the collection in that year. To counterbalance those emissions, AW buys carbon credits for an equivalent amount of CO2 to be removed or avoided through projects worldwide. From water supply to agriculture and forestry, from energy efficiency to social projects, AW is happy to support this project:
Kenya agricultural carbon project
The Kenya Agricultural Carbon Project focuses on responsible agriculture as an efficient means of both supporting local farmers and sequestering carbon.